Being Guided or Having Exploratory Freedom: User Preferences of a Virtual Agent's Behavior in a Museum
---
21th ACM International Conference on Intelligent Virtual Agents 2021 (IVA'21)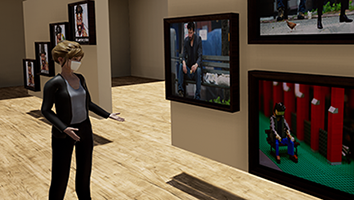 A virtual guide in an immersive virtual environment allows users a structured experience without missing critical information. However, although being in an interactive medium, the user is only a passive listener, while the embodied conversational agent (ECA) fulfills the active roles of wayfinding and conveying knowledge. Thus, we investigated for the use case of a virtual museum, whether users prefer a virtual guide or a free exploration accompanied by an ECA who imparts the same information compared to the guide. Results of a small within-subjects study with a head-mounted display are given and discussed, resulting in the idea of combining benefits of both conditions for a higher user acceptance. Furthermore, the study indicated the feasibility of the carefully designed scene and ECA's appearance.
We also submitted a GALA video entitled "An Introduction to the World of Internet Memes by Curator Kate: Guiding or Accompanying Visitors?" by D. Hashem, A. Bönsch, J. Ehret, and T.W. Kuhlen, showcasing our application.
IVA 2021 GALA Audience Award!
» Show BibTeX
@inproceedings{Boensch2021b,
author = {B\"{o}nsch, Andrea and Hashem, David and Ehret, Jonathan and Kuhlen, Torsten W.},
title = {{Being Guided or Having Exploratory Freedom: User Preferences of a Virtual Agent's Behavior in a Museum}},
year = {2021},
isbn = {9781450386197},
publisher = {Association for Computing Machinery},
address = {New York, NY, USA},
url = {https://doi.org/10.1145/3472306.3478339},
doi = {10.1145/3472306.3478339},
booktitle = {{Proceedings of the 21th ACM International Conference on Intelligent Virtual Agents}},
pages = {33–40},
numpages = {8},
keywords = {virtual agents, enjoyment, guiding, virtual reality, free exploration, museum, embodied conversational agents},
location = {Virtual Event, Japan},
series = {IVA '21}
}