Publications
---
International Conference on Digital Human Modeling and Applications in Health, Safety, Ergonomics and Risk Management 2017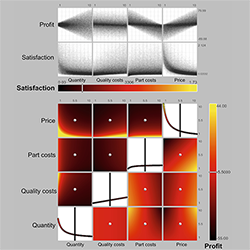 Understanding multi-dimensional data and in particular multi-dimensional dependencies is hard. Information visualization can help to understand this type of data. Still, the problem of how users gain insights from such visualizations is not well understood. Both the visualizations and the users play a role in understanding the data. In a case study, using both, a scatterplot matrix and a HyperSlice with six-dimensional data, we asked 16 participants to think aloud and measured insights during the process of analyzing the data. The amount of insights was strongly correlated with spatial abilities. Interestingly, all users were able to complete an optimization task independently of self-reported understanding of the data.
» Show BibTeX
19th EG/VGTC Conference on Visualization (EuroVis 2017)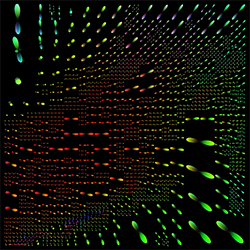 3D-Polarized Light Imaging (3D-PLI) provides data that enables an exploration of brain fibers at very high resolution. However, the visualization poses several challenges. Beside the huge data set sizes, users have to visually perceive the pure amount of information which might be, among other aspects, inhibited for inner structures because of occlusion by outer layers of the brain. We propose a clustering of fiber directions by means of spherical harmonics using a level-of-detail structure by which the user can interactively choose a clustering degree according to the zoom level or details required. Furthermore, the clustering method can be used for the automatic grouping of similar spherical harmonics automatically into one representative. An optional overlay with a direct vector visualization of the 3D-PLI data provides a better anatomical context.


Honorable Mention for Best Short Paper!
» Show BibTeX
Workshop on Everyday Virtual Reality (WEVR)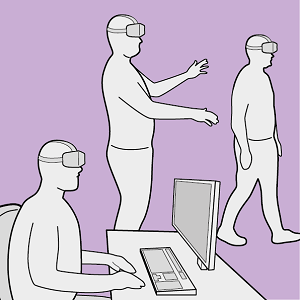 Applications of Virtual Reality (VR) have been repeatedly explored with the goal to improve the data analysis process of users from different application domains, such as architecture and simulation sciences. Unfortunately, making VR available in professional application scenarios or even using it on a regular basis has proven to be challenging. We argue that everyday usage environments, such as office spaces, have introduced constraints that critically affect the design of interaction concepts since well-established techniques might be difficult to use. In our opinion, it is crucial to understand the impact of usage scenarios on interaction design, to successfully develop VR applications for everyday use. To substantiate our claim, we define three distinct usage scenarios in this work that primarily differ in the amount of mobility they allow for. We outline each scenario's inherent constraints but also point out opportunities that may be used to design novel, well-suited interaction techniques for different everyday usage environments. In addition, we link each scenario to a concrete application example to clarify its relevance and show how it affects interaction design.
Proceedings of the IEEE Symposium on 3D User Interfaces (2017)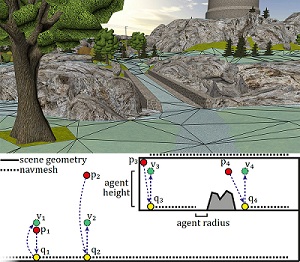 Scene visibility - the information of which parts of the scene are visible from a certain location—can be used to derive various properties of a virtual environment. For example, it enables the computation of viewpoint quality to determine the informativeness of a viewpoint, helps in constructing virtual tours, and allows to keep track of the objects a user may already have seen. However, computing visibility at runtime may be too computationally expensive for many applications, while sampling the entire scene beforehand introduces a costly precomputation step and may include many samples not needed later on.
Therefore, in this paper, we propose a novel approach to precompute visibility information based on navigation meshes, a polygonal representation of a scene's navigable areas. We show that with only limited precomputation, high accuracy can be achieved in these areas. Furthermore, we demonstrate the usefulness of the approach by means of several applications, including viewpoint quality computation, landmark and room detection, and exploration assistance. In addition, we present a travel interface based on common visibility that we found to result in less cybersickness in a user study.
» Show BibTeX
Proceedings of IEEE Virtual Reality Conference 2017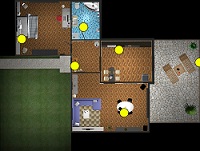 Viewpoint quality estimation methods allow the determination of the most informative position in a scene. However, a single position usually cannot represent an entire scene, requiring instead a set of several viewpoints. Measuring the quality of such a set of views, however, is not trivial, and the computation of an optimal set of views is an NP-hard problem. Therefore, in this work, we propose three methods to estimate the quality of a set of views. Furthermore, we evaluate three approaches for computing an approximation to the optimal set (two of them new) regarding effectiveness and efficiency.
Proceedings of IEEE Virtual Reality Conference 2017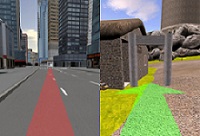 The manual adjustment of travel speed to cover medium or large distances in virtual environments may increase cognitive load, and manual travel at high speeds can lead to cybersickness due to inaccurate steering. In this work, we present an approach to quickly pass regions where the environment does not change much, using automated suggestions based on the computation of common visibility. In a user study, we show that our method can reduce cybersickness when compared with manual speed control.
Proceedings of IEEE Virtual Reality Conference (2017)
The use of non-verbal vocal input (NVVI) as a hand-free trigger approach has proven to be valuable in previous work [Zielasko2015]. Nevertheless, BlowClick's original detection method is vulnerable to false positives and, thus, is limited in its potential use, e.g., together with acoustic feedback for the trigger. Therefore, we extend the existing approach by adding common machine learning methods. We found that a support vector machine (SVM) with Gaussian kernel performs best for detecting blowing with at least the same latency and more precision as before. Furthermore, we added acoustic feedback to the NVVI trigger, which increases the user's confidence. To evaluate the advanced trigger technique, we conducted a user study (n=33). The results confirm that it is a reliable trigger; alone and as part of a hands-free point-and-click interface.
Proceedings of the IEEE Symposium on 3D User Interaction (3DUI) 2017

We extended BlowClick, a NVVI metaphor for clicking, by adding machine learning methods to more reliably classify blowing events. We found a support vector machine with Gaussian kernel performing the best with at least the same latency and more precision than before. Furthermore, we added acoustic feedback to the NVVI trigger, which increases the user's confidence. With this extended technique we conducted a user study with 33 participants and could confirm that it is possible to use NVVI as a reliable trigger as part of a hands-free point-and-click interface.
IEEE Virtual Reality Workshop on Everyday Virtual Reality 2017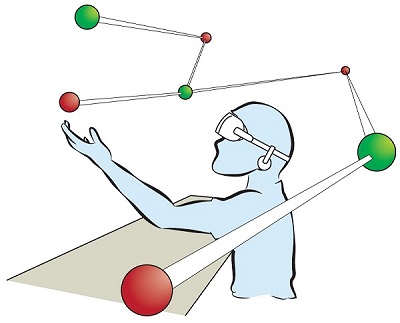 In this work we describe the scenario of fully-immersive desktop VR, which serves the overall goal to seamlessly integrate with existing workflows and workplaces of data analysts and researchers, such that they can benefit from the gain in productivity when immersed in their data-spaces. Furthermore, we provide a literature review showing the status quo of techniques and methods available for realizing this scenario under the raised restrictions. Finally, we propose a concept of an analysis framework and the decisions made and the decisions still to be taken, to outline how the described scenario and the collected methods are feasible in a real use case.
IEEE Virtual Humans and Crowds for Immersive Environments (VHCIE), 2017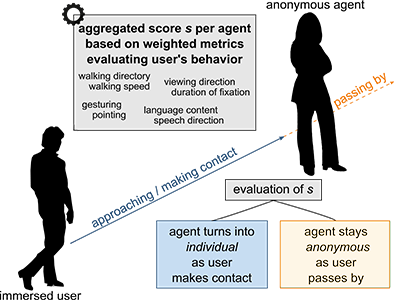 It is increasingly common to embed embodied, human-like, virtual agents into immersive virtual environments for either of the two use cases: (1) populating architectural scenes as anonymous members of a crowd and (2) meeting or supporting users as individual, intelligent and conversational agents. However, the new trend towards intelligent cyber physical systems inherently combines both use cases. Thus, we argue for the necessity of multiagent systems consisting of anonymous and autonomous agents, who temporarily turn into intelligent individuals. Besides purely enlivening the scene, each agent can thus be engaged into a situation-dependent interaction by the user, e.g., into a conversation or a joint task. To this end, we devise components for an agent's behavioral design modeling the transition between an anonymous and an individual agent when a user approaches.
» Show BibTeX
Proceedings of the IEEE Symposium on 3D User Interfaces 2017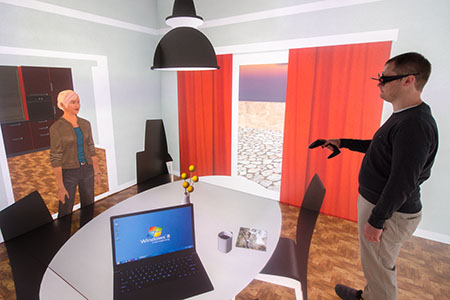 Embodied, virtual agents provide users assistance in agent-based support systems. To this end, two closely linked factors have to be considered for the agents' behavioral design: their presence time (PT), i.e., the time in which the agents are visible, and the approaching time (AT), i.e., the time span between the user's calling for an agent and the agent's actual availability.
This work focuses on human-like assistants that are embedded in immersive scenes but that are required only temporarily. To the best of our knowledge, guidelines for a suitable trade-off between PT and AT of these assistants do not yet exist. We address this gap by presenting the results of a controlled within-subjects study in a CAVE. While keeping a low PT so that the agent is not perceived as annoying, three strategies affecting the AT, namely fading, walking, and running, are evaluated by 40 subjects. The results indicate no clear preference for either behavior. Instead, the necessity of a better trade-off between a low AT and an agent's realistic behavior is demonstrated.
» Show BibTeX
Proceedings of IEEE Virtual Reality Conference 2017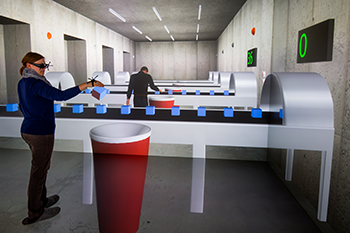 Traditionally, experimental economics uses controlled and incentivized field and lab experiments to analyze economic behavior. However, investigating peer effects in the classic settings is challenging due to the reflection problem: Who is influencing whom?
To overcome this, we enlarge the methodological toolbox of these experiments by means of Virtual Reality. After introducing and validating a real-effort sorting task, we embed a virtual agent as peer of a human subject, who independently performs an identical sorting task. We conducted two experiments investigating (a) the subject's productivity adjustment due to peer effects and (b) the incentive effects on competition. Our results indicate a great potential for Virtual-Reality-based economic experiments.
» Show BibTeX
High-Performance Scientific Computing, Januar 2017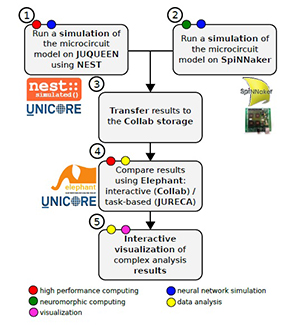 Workflows for the acquisition and analysis of data in the natural sciences exhibit a growing degree of complexity and heterogeneity, are increasingly performed in large collaborative efforts, and often require the use of high-performance computing (HPC). Here, we explore the reasons for these new challenges and demands and discuss their impact, with a focus on the scientific domain of computational neuroscience. We argue for the need for software platforms integrating HPC systems that allow scientists to construct, comprehend and execute workflows composed of diverse processing steps using different tools. As a use case we present a concrete implementation of such a complex workflow, covering diverse topics such as HPC-based simulation using the NEST software, access to the SpiNNaker neuromorphic hardware platform, complex data analysis using the Elephant library, and interactive visualizations. Tools are embedded into a web-based software platform under development by the Human Brain Project, called Collaboratory. On the basis of this implementation, we discuss the state-of-the-art and future challenges in constructing large, collaborative workflows with access to HPC resources.
---
Previous Year (2016)