Profile
---
Jonathan Ehret née Wendt, received his Master degree in 2016 at RWTH Aachen. Now he conducts research in the field of Social VR by integrating virtual agents as advanced, emotional human interfaces into VR applications, focusing on conversational VAs, comprising aspects like auralisation of speech, language register, and co-verbal gestures.
Publications
---
19th ACM International Conference on Intelligent Virtual Agents (IVA), 2019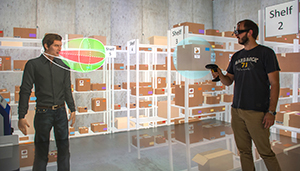 Embodied conversational agents become more and more important in various virtual reality applications, e.g., as peers, trainers or therapists. Besides their appearance and behavior, appropriate speech is required for them to be perceived as human-like and realistic. Additionally to the used voice signal, also its auralization in the immersive virtual environment has to be believable. Therefore, we investigated the effect of adding directivity to the speech sound source. Directivity simulates the orientation dependent auralization with regard to the agent's head orientation. We performed a one-factorial user study with two levels (n=35) to investigate the effect directivity has on the perceived social presence and realism of the agent's voice. Our results do not indicate any significant effects regarding directivity on both variables covered. We account this partly to an overall too low realism of the virtual agent, a not overly social utilized scenario and generally high variance of the examined measures. These results are critically discussed and potential further research questions and study designs are identified.
» Show BibTeX
IEEE Virtual Humans and Crowds for Immersive Environments (VHCIE), 2019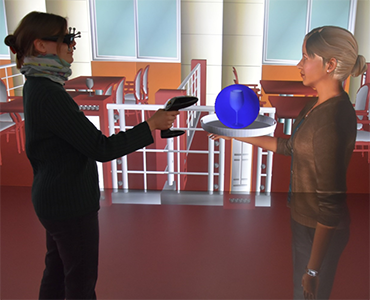 When designing the behavior of embodied, computer-controlled, human-like virtual agents (VA) serving as temporarily required assistants in virtual reality applications, two linked factors have to be considered: the time the VA is visible in the scene, defined as presence time (PT), and the time till the VA is actually available for support on a user's calling, defined as approaching time (AT).
Complementing a previous research on behaviors with a low VA's PT, we present the results of a controlled within-subjects study investigating behaviors by which the VA is always visible, i.e., behaviors with a high PT. The two behaviors affecting the AT tested are: following, a design in which the VA is omnipresent and constantly follows the users, and busy, a design in which theVAis self-reliantly spending time nearby the users and approaches them only if explicitly asked for. The results indicate that subjects prefer the following VA, a behavior which also leads to slightly lower execution times compared to busy.
» Show BibTeX
Proceedings of the IEEE Conference on Virtual Reality and 3D User Interfaces (VR), 2018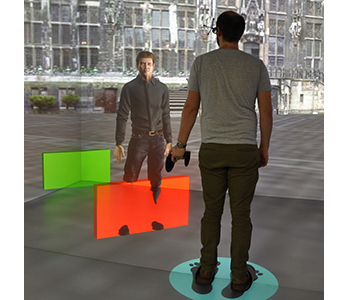 Personal space (PS), the flexible protective zone maintained around oneself, is a key element of everyday social interactions. It, e.g., affects people's interpersonal distance and is thus largely involved when navigating through social environments. However, the PS is regulated dynamically, its size depends on numerous social and personal characteristics and its violation evokes different levels of discomfort and physiological arousal. Thus, gaining more insight into this phenomenon is important.
We contribute to the PS investigations by presenting the results of a controlled experiment in a CAVE, focusing on German males in the age of 18 to 30 years. The PS preferences of 27 participants have been sampled while they were approached by either a single embodied, computer-controlled virtual agent (VA) or by a group of three VAs. In order to investigate the influence of a VA's emotions, we altered their facial expression between angry and happy. Our results indicate that the emotion as well as the number of VAs approaching influence the PS: larger distances are chosen to angry VAs compared to happy ones; single VAs are allowed closer compared to the group. Thus, our study is a foundation for social and behavioral studies investigating PS preferences.
» Show BibTeX
IEEE Virtual Humans and Crowds for Immersive Environments (VHCIE), 2018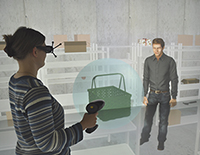 When interacting and communicating with virtual agents in immersive environments, the agents' behavior should be believable and authentic. Thereby, one important aspect is a convincing auralizations of their speech. In this work-in progress paper a study design to evaluate the effect of adding directivity to speech sound source on the perceived social presence of a virtual agent is presented. Therefore, we describe the study design and discuss first results of a prestudy as well as consequential improvements of the design.



» Show BibTeX
IEEE Virtual Humans and Crowds for Immersive Environments (VHCIE), 2018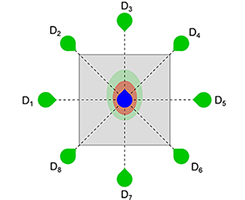 The concept of personal space is a key element of social interactions. As such, it is a recurring subject of investigations in the context of research on proxemics. Using virtual-reality-based experiments, we contribute to this area by evaluating the direct effects of emotional expressions of an approaching virtual agent on an individual's behavioral and physiological responses. As a pilot study focusing on the emotion expressed solely by facial expressions gave promising results, we now present a study design to gain more insight.
» Show BibTeX
Virtual Environments: Current Topics in Psychological Research (VECTOR) workshop, 2018
Personal Space (PS) is regulated dynamically by choosing an appropriate interpersonal distance when navigating through social environments. This key element in social interactions is influenced by numerous social and personal characteristics, e.g., the nature of the relationship between the interaction partners and the other's sex and age. Moreover, affective contexts and expressions of interaction partners influence PS preferences, evident, e.g., in larger distances to others in threatening situations or when confronted with angry-looking individuals. Given the prominent role of emotional expressions in our everyday social interactions, we investigate how emotions affect PS adaptions.
Proceedings of 23rd ACM Symposium on Virtual Reality Software and Technology (VRST) 2017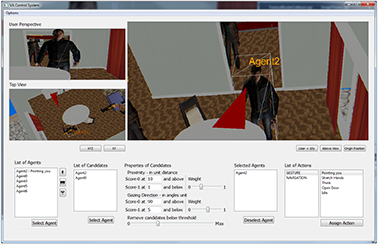 Controlling user-agent-interactions by means of an external operator includes selecting the virtual interaction partners fast and faultlessly. However, especially in immersive scenes with a large number of potential partners, this task is non-trivial.
Thus, we present a score-based recommendation system supporting an operator in the selection task. Agents are recommended as potential partners based on two parameters: the user's distance to the agents and the user's gazing direction. An additional graphical user interface (GUI) provides elements for configuring the system and for applying actions to those agents which the operator has confirmed as interaction partners.
» Show BibTeX
Proceedings of IEEE Virtual Reality Conference 2017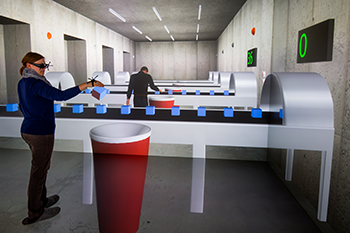 Traditionally, experimental economics uses controlled and incentivized field and lab experiments to analyze economic behavior. However, investigating peer effects in the classic settings is challenging due to the reflection problem: Who is influencing whom?
To overcome this, we enlarge the methodological toolbox of these experiments by means of Virtual Reality. After introducing and validating a real-effort sorting task, we embed a virtual agent as peer of a human subject, who independently performs an identical sorting task. We conducted two experiments investigating (a) the subject's productivity adjustment due to peer effects and (b) the incentive effects on competition. Our results indicate a great potential for Virtual-Reality-based economic experiments.
» Show BibTeX
Proceedings of the IEEE Symposium on 3D User Interfaces (2016)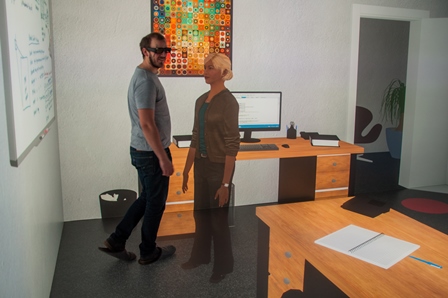 Computer-controlled, human-like virtual agents (VAs), are often embedded into immersive virtual environments (IVEs) in order to enliven a scene or to assist users. Certain constraints need to be fulfilled, e.g., a collision avoidance strategy allowing users to maintain their personal space. Violating this flexible protective zone causes discomfort in real-world situations and in IVEs. However, no studies on collision avoidance for small-scale IVEs have been conducted yet.
Our goal is to close this gap by presenting the results of a controlled user study in a CAVE. 27 participants were immersed in a small-scale office with the task of reaching the office door. Their way was blocked either by a male or female VA, representing their co-worker. The VA showed different behavioral patterns regarding gaze and locomotion. Our results indicate that participants preferred collaborative collision avoidance: they expect the VA to step aside in order to get more space to pass while being willing to adapt their own walking paths.

Honorable Mention for Best Technote!
» Show BibTeX